Masters Leadership Program (MLP) candidates are proven, reputable leaders in their fields with a strong track record of accomplishment and a desire to give back to the community. The continued success of this program relies on the inclusion of individuals with diverse backgrounds, who are interested in nonprofit board leadership positions.
Applications will be online January 10 - April 30 for the program beginning in the fall. For a reminder when applications open again, please visit our contact page.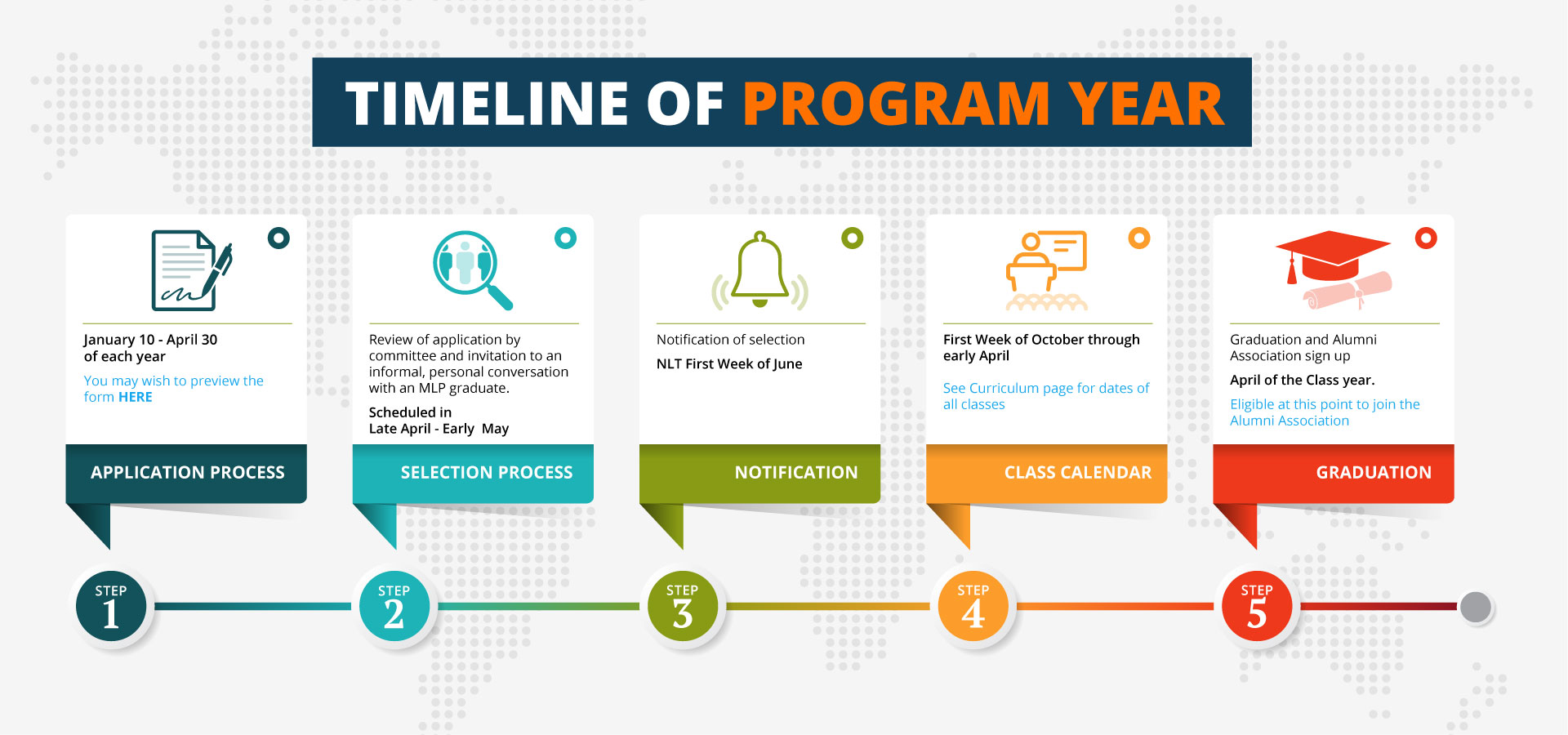 ---
If you are interested in applying, you must first secure a recommendation from a previous program graduate, current student, MLP Board member, or MLP Emeritus Board. We suggest networking with graduates and expressing your reasons and qualifications for seeking candidacy in the program. All our graduates were at one time seeking a nomination themselves, so this is an expected request. You will need to include the name of your nominator when submitting your online application so that we can send an email requesting them to provide an online recommendation for your candidacy.
A basic biographical profile, summary of your career highlights, and list of past and current community involvement is also required. You may wish to preview the form HERE.
Candidates with completed applications and recommendations may be invited for a face-to-face conversation with an MLP graduate. These 30-minute conversations are structured to answer any questions you may have about MLP and offer an opportunity to add more context to your application.
We choose 51 candidates, and five alternates, each year for participation in the program. Due to the large number of applications, not all applicants are selected regardless of the strength of their application. After all conversations are completed, the committee makes the final determination on candidate selection. Notification will be made no later than the first week of June.
Tuition
Once accepted into the program, there is a $1,500 tuition fee. Limited scholarships are available based on financial need. Upon notification of selection you will receive detailed information on next steps. If you have any additional questions please contact the MLP Executive Director.
The program begins with the seven-month (October-April), 13 full-day curriculum. Participants gain full access with a backstage pass to expert speakers and exclusive venues. The curriculum culminates with specific education focused on being an effective board member and real-time access to board opportunities. The ongoing program provides continual learning opportunities and a fun way to stay in touch with your new colleagues via our Alumni Association. Our effectiveness is further enhanced through strong relationships with our nonprofit Agency Partners, Community Investment Partners, Class Day Sponsors, and MLP Emeritus Board.

Eligibility Criteria
Candidates must have full control of their schedules to fully commit to attending ALL 13 full days of classes. Once applications open January 10, please review the class schedule to make a detailed comparison with your individual calendar to confirm your commitment to attend ALL classes.
Candidates are retired, semi-retired or nearing retirement. The typical age of candidates is 55+.
Candidates come

f

rom a variety of professions, have proven senior-level experience in their field and represent the diverse culture of our community.
Candidates come

f

rom the Greater San Antonio area and have a deep desire to give back through leadership service to a great cause, to make a difference, and to stay in touch and involved in the community they love.
Expectations
Candidates are expected to attend all sessions of the 13-full day program. Please review the class schedule before confirming your commitment to all classes throughout the seven-month period.
Candidates agree to serve on a civic commission or as a (501(c)(3) nonprofit agency board member (upon completion of program).
Candidates must give an annual recording of nonprofit and civic service positions and hours committed.
All graduates are expected to join the Alumni Association (MLPAA). Annual fees are $125.